SWIM COURSES

ROYAL LIFE SAVING COURSES


Drowning deaths are up 15% this year in 15 – 25 year old age group compared to the five year average. During daylight hours, one child drowns every 45 seconds in Asia (SwimSafe, 2010). A person drowning may "struggle" for between 20 and 60 seconds (RLSSA, 2007) with little to no physical or vocal signals. These alarming statistics are preventable and we can teach you how to prevent drowning.

This is an important course, as it not only teaches children and young adults what to do in the case of a water misadventure but also how to understand their own abilities and limitations. Unfortunately around 43 percent of all drowning are people under the age of 35 years, and the great majority are young males.

Phillip is a qualified PADI (Professional Association of Diving Instructors) Open Water Divers. Other Life Survival Training Aquatic Instructors undergo annual swimming and rescue training and assessment. We can fulfill the role of qualified lifeguard for your aquatic activity.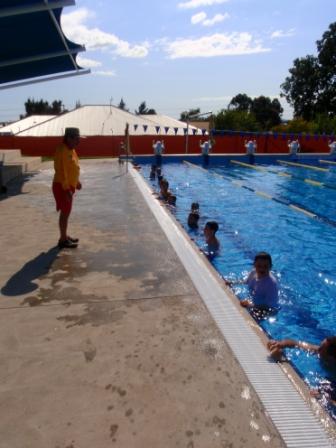 Some of the participants in the Swim to Survive course run by Life Survival Training at Bathurst aquatic Centre in February 2010. Participants who completed the course received a Swim to Survive certificate from the Royal Life Saving Society Australia (RLSSA).

We can offer the RLSSA Swim to Survive, Aquatic Rescue and Bronze Medallion/Star/Cross awards. We can incorporate elements of CPR and first aid to the courses to meet your needs.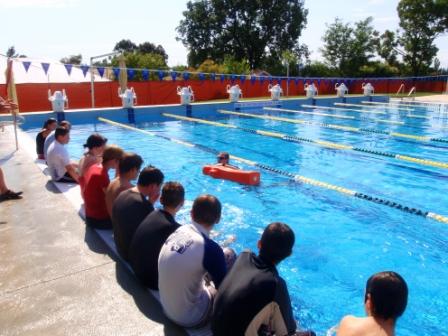 Phillip demonstrating deep water rescue and towing using "Bob".

School Courses:
The New South Wales Department of Education and Training, in association with other education and sporting organisations has released the "Water Safety Guidelines for Unstructured Aquatic Activity". These guidelines are designed to assist schools in the planning, preparation and conduct of aquatic activities. Schools in NSW are required to test the swimming ability of students before allowing them to participate in any unstructured aquatic activity.

At Life Survival Training we are accredited by the RLSSA to conduct the "Swim Challenge" to ascertain the swimming abilities of students. We can instruct and assess the ability of students to safely enter and exit the water, swim and undertake aquatic survival techniques. This will allow your students to participate in swimming carnivals and excursions that involve "unstructured" activity. We are also available to supervise students at an aquatic venue as lifeguards and/or medics. Contact us for information and costs.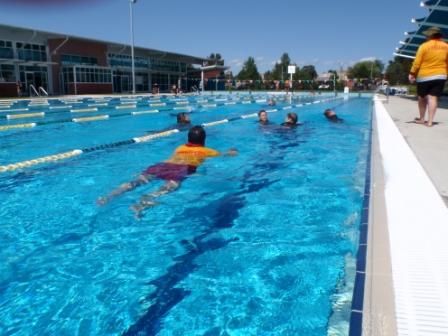 Do you know how to:
· Survive in an emergency situation in the water?
· Swim to conserve energy?
· Check for hazards in, on and under the water?
· Rescue someone in distress or difficulty?

This course teaches how NOT to underestimate the hazards and overestimate their ability.